Droxford History Group
Droxford History Group was established in 2014. It was formed following an open public meeting that showed great local interest in a broad range of historical subjects and some enthusiasm for new research. Annual membership costs the very economical sum of £10 per head.
The Group holds meetings every other month on a Thursday in the village hall, 7.30 pm, that include a talk on matters of interest. These generally have a local flavour or some relevance to the area, however tenuous! Details of meetings are given below in the Programme of Events, non-members are very welcome to attend for a small charge. There are plans to expand activity into workshops on family history research and more general, historical research. We hope to encourage groups of members to research local topics and for individuals to document the story behind their houses.
The simplest way to become a member is to come along to one of the meetings, where we will be delighted to tell you more and sign you up. Refreshments are available, at a small price, before and after meetings.
Committee Members (click on title to email directly)
| Title | Name | Telephone |
| --- | --- | --- |
| | Michael Profit | 01489 877452 |
| | Ian Withers | 01489 877595 |
| | Olive Hathaway | 01489 878768 |
| Cttee Member | Pauline Tilt | 01489 877548 |
| Cttee Member | John Whittaker | 01489 877788 |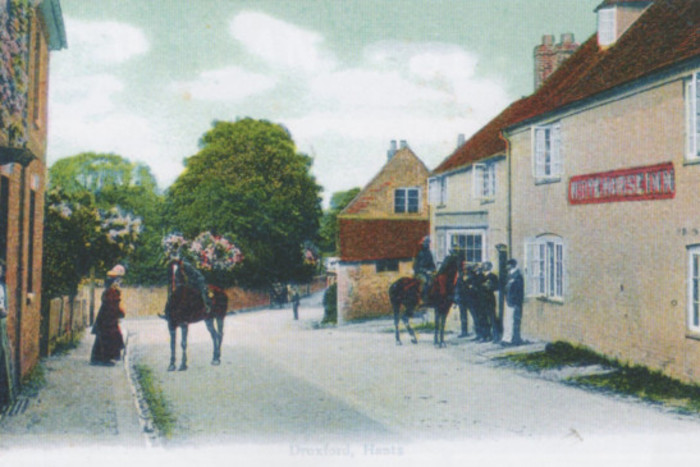 History Group Programme of Events
| Date | Title | Details |
| --- | --- | --- |
| 24.11.21 | Talk by Andrew Negus on Portsmouth 1100-1790 | Droxford Village Hall |
| 31.03.22 | Talk by Rachel Dean on Droxford shops remembered | Droxford Village Hall |
| 26.05.22 | History Walk Around Petersfield | |
| 28.07.22 | AGM and talk by Nick Fletcher on Droxford British Legion | Droxford Village Hall |
| 29.09.22 | Talk by Anthony McEwen on the River Meon | Droxford Village Hall |
| 24.11.22 | Talk by Andrew Negus on Portsmouth 1830-1930 | Droxford Village Hall |
| | | |