Your Hampshire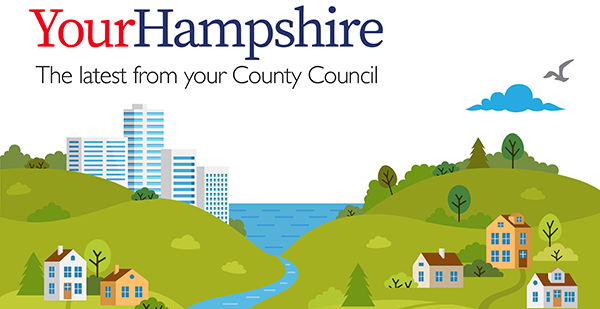 Cost of living – one stop shop support
With the rising cost of living on everyone's mind, we've brought together in one easy-to-navigate location on our website, a raft of information on the help and support already available – from food vouchers, hot school meals and community pantries to expert advice on heating your home and options to help reduce fuel bills. Visit our Keep Warm Keep Well webpages for more information
You can find your local library online – all are warm and welcoming for anyone needing a place to spend some time, connect with others, or to work or study. Our libraries offer a range of free or low-cost resources, events, and activities, and provide a safe and inclusive community space for everyone. All have access to free WiFi.
Stay snug this winter by reminding yourself of the top tips for keeping your home warm. If you are struggling, you can call the Hitting the Cold Spots helpline – open to all Hampshire residents who need it – where an advisor will talk through the possible options. MORE ADVICE
Quit smoking – for a healthier you
If you smoke and have been thinking about quitting, this year's Stoptober could give you the incentive you need – giving up will help you breathe easier, feel more energetic, and save you money.
Evidence shows that most people are much more likely to be successful with expert help, and Smokefree Hampshire, the County Council's Stop Smoking Service, is on hand to help you take the first step. You can self-refer online at Smoke Free Hampshire, by calling the Quitline on 01264 563039, or texting 'Quit' to 66777. There's also lots of advice if you prefer to quit on your own.
To give you extra motivation and support, download the NHS app – it tracks your progress and shows just how much money you will be saving once you give up!
Remember, if you can make it to 28 days smoke-free, you're five times more likely to quit for good. GET SUPPORT
Keep on learning in libraries!
'Never stop learning' is this year's theme for Libraries Week, 3–9 October, to inspire you to keep learning and help you unlock your potential through the range of accessible courses from Hampshire Libraries.
Libraries offer a mix of online and in-person courses, covering a range of topics including skills for work, personal development, fitness, wellbeing, digital and photography, first aid, courses for parents and carers, and arts and crafts – most of the courses are free!
Browse the full range of courses and book your place online or at your local library. You can also keep up with the latest Learning in Libraries news on Facebook.
Everyone is welcome and the library is free to join. If you are new to the library, sign up for a library card and start your library learning journey today! LEARN IN LIBRARIES
Christmas is coming
Bookings are now open for the Christmas 2022 Enlightened event – a magical illuminated light trail at Staunton Farm with a new, even more immersive trail! Staunton Farm will be transformed to guarantee a memory-making and mesmerising experience for you to enjoy with all the family. Book now for dates between 1 December and 31 January and be sure of your enchanting winter moments! BOOK TICKETS
Keep driving safely
We know mature drivers have fewer accidents, but as we grow older our ability to deal safely with some situations lessens. If you are aged 60 and over, you can check your driving skills by booking a confidential assessment and receive a comprehensive report on your driving skills. Take a few moments to look at this short film, where Polly, 75, explains why keeping a check on your driving skills is important. BOOK A SESSION
Could you be a childminder?
Are you are looking for a career change to something more fulfilling and want to work with children? If so, and you think you could care for and support the development of children from an early age in readiness for school, childminding could be for you. Be your own boss or work in a team – either way, you can make a difference to children's lives. FIND OUT MORE
Leading on travel hubs
New proposals for travel hubs in Hampshire have been developed for Eastleigh town centre and Southampton Airport Parkway. We want to improve facilities and networks so you can more readily use public transport and walk and cycle for local journeys, leaving the car at home and helping the environment. Please complete our survey by 23 October. SHARE YOUR VIEWS